Mini Album: Les Vélos-drôles
I was up bright and early today, but my gang was snoring away happily, exhausted after our day at the funpark 'Les Naudières' yesterday. When I logged on to one of my favourite sites, Scrap etc, I saw that Mamaïw had put up a tutorial for a mini album with three pockets as today's challenge.
With nothing else to be doing, and lots of colourful photos from yesterday's outing, I set to work, and made the album below. The photos are of the kids having a blast fun playing on these weird and strange bicycles. Some had the handlebars in funny places, on others the wheels were off-centre and wobbly or the person sitting on the back facing backwards did the steering while the front person pedalled the pedals. Funnier still was the bicycle where the handlebars turned right to make the bicycle turn left. Lots of laughs and a few tumbles and bruises later and we were all ready to try the next attraction.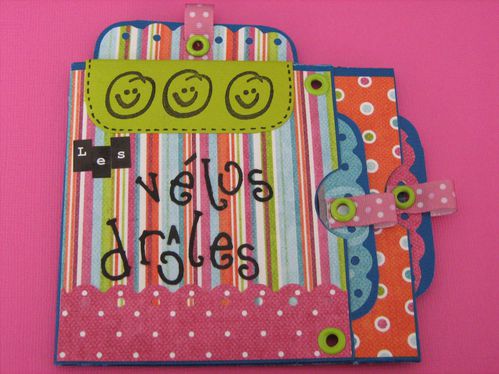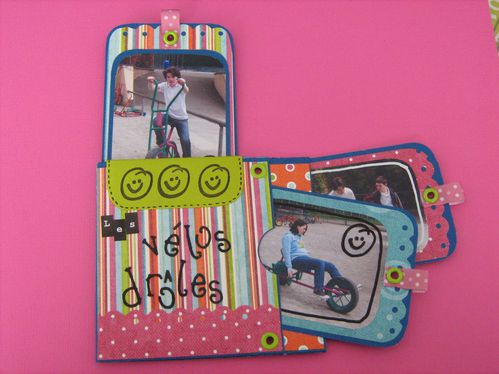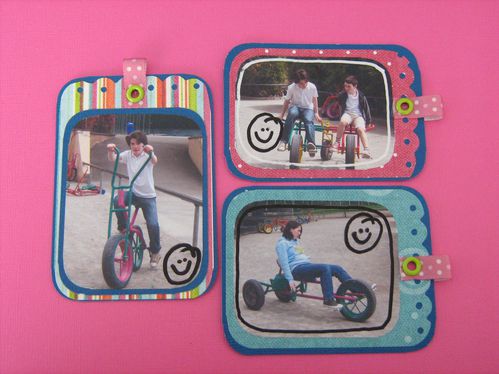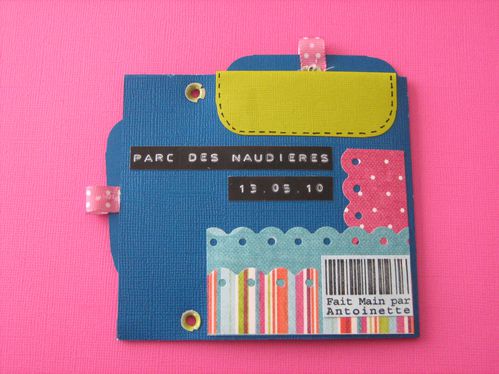 Patterned papers are all from My Mind's Eye 'colourful christmas' collection, Colorcore blue bazzil for the support and a little lime green bazzil to contrast. I used some eyelets from my stash, the 'smiley face' is from Hero Arts, and the personalised barcode is from La Compagnie Des Elfes. I finished it off with some Anita's ribbon, and my Dymo for the date and place.
The title is a wee play on words: Vélo=bicycle, drôle=funny, and the lot together 'vélodrôle' sounds very like 'vélodrome' (a cycle-racing track.
What a fun mini, Mamaïw, thanks!!!