Here's my youngest, all stretched out and exhausted after having played his heart out in the playground of Malahide Castle. I love the colours in the picture I used on this layout, that luscious green is rarely seen on the grass here in France, and it brings home to me just how much we have to be thankful for in our reputedly rainy and wet Emerald Isle, despite all our complaints about the weather!
I 'lifted my scrap-buddy Nath's page, which itself is a 'lift of Maska's layout. As you will see I only loosely followed the lift (naughty me), though isn't that what's called 'personalisation'?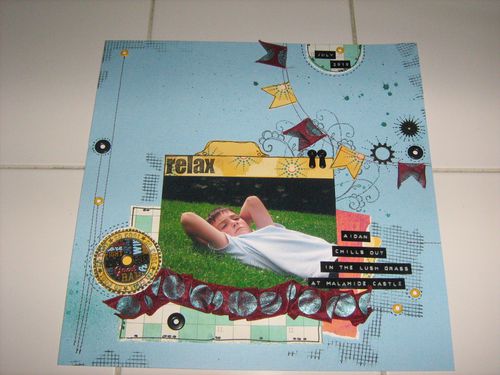 OK so, my page doesn't have quite the same 'oomph' as Maska's, boy has she got talent!, but I'm happy enough with it all the same.
Papers from cosmo Cricket, DCWV and Sassafras Lass, miscellaneous eyelets and gromlets and metal embellishments, stamps from La Compagnie des Elfes and Kesi'Art, a spritz of Glimmer Mist and a little ribbon from my stash complete the LO.