... just do it your own way

Ever since he was just a little tot, my eldest has been an extraordinarly unique character, not always simplifying either his own or my life, but certainly colouring it with his very own style and memorable ways.
This photo was taken when he was about a year and a half old and had finally understood that the paint was to go on the paper, not all over his own body

OK, the lesson hadn't been fully assimilated: he still insisted on colouring around, outside, above and below the lines of any drawing we presented him, but he certainly had heaps of fun doing it, and after all, that was the aim of the game (mostly!).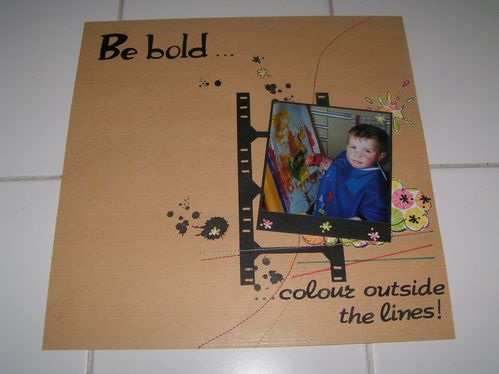 I used a sketch suggested by Nany for the challenge of the 6th January on the Scrap etc. forum, some bazzill kraft for the background, I created the 'film strip' myself using a hand punch and my trusty craft knife, ink splashes and cloud are stamps from La Compagnie des Elfes, and the small splashes are punched with some mini punches my youngest son offered me for christmas (he's so sweet!). A little stitching and a title cut using Ida Lou's alphabet from Sizzix and Rollerskate from Quickcutz complete the LO.