M. discovered that her furry santa hat was a fun way to keep her ears warm this christmas season - so much so that the bonnet stayed on her head from sunup to sundown for at least two weeks before Christmas, even whilst shopping in town or walking the dog.
Thanks to her brother we managed to immortalise the act with this cute photo (taken by E., and the only one where she's actually grinning as the camera usually has her running for cover quicker than you can say 'boo'). The modern, fun colours are a change from the traditional greens and reds but still convey that Christmassy spirit.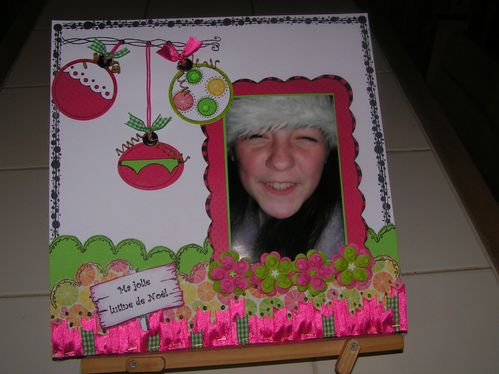 Page is scraplifted from the cover of Nov/Dec '09 Scrap pour Tous magazine.
Papers: white bazzill background, lime green bazzill, fuscia pink swiss dots bazzill and patterned paper from K&Co (I think).
Stamps: Artemio and La Compagnie des Elfes
Flowers: Prima eline
Miscellaneaous: Martha Stewart border punch, Artemio brads, We R Memory Keepers extra large eyelets, ribbon from stash, staples, cordelette