A little boy called ... ???
At the end of November the Christmas spirit made itself felt as preparations got under way for cards and scrappy gift goodness galore. One of the fun swaps organised by my local scrapbooking club was an exchange of photos between the members. Each of us got to scrap a photo chosen at random, and tonight was the night to exchange our pages.
When it came to picking out the photos I received a fantastic piccie of my friend's gorgeous little blue-eyed blond-haired angel, and couldn't wait to put it on a page. Fate, however, played a role and by the following night I had lost the photograph! Thank goodness for digital, I says, and quickly sent an email to my pal who sent me a copy of the photo by mail. I carefully saved it to a folder where I keep files that I definitely do *not* want to delete.
Next came the "thoughtful" stage: Hmmm what atmosphere do I want to go for on this page? Clean? nah! Cheery and colourful? maybe!!! Romantic? No way!!! Freestyle? Hmm I didn't think that would do for such a fabby photo either. No rush, I let the thing simmer along, and one night I decided to set to. I get out my papers, glue, cutters and everything, and decide to start by printing out the photo. *Shock* *horror* The photo is no longer on my email account, nor on my hard disk, nor on my USB key! No way! I couldn't have lost the picture *again*??? But yes! I was fated to lose that photo. I sadly put away all my stuff, and headed off to Belgium for a few days. Life was hectic for a bit then between Christmas, our trip away, New Year, Back to school ... but I finally decided to get that page done at the weekend. Another quick email to my pal, and *ping* like magic I one again had that wonderful photograph to play around with. I saved the email, and the photo attachment AND I printed it out in B/W, Colour and Sepia to be sure to be sure to be sure not to lose it again! Then I set to work.
So Creative put up a great challenge on Scrap etc - a scraplift of one of kim's pages (do click on her name, you know you want to!!! AND it'll bring you to her blog, and you definitely won't be diappointed, it's amazing!!!).
Here's my take on it, featuring TOM: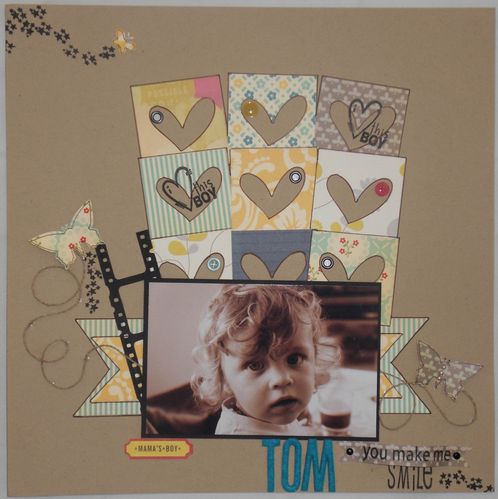 Despite the many errors in that page, I do actually like the outcome. I did have a few agonising doubts about whether or not to put Tom's name on the page, as at 2 in the morning when I was putting the finishing touches to the LO, I couldn't actually remember for sure that that *was* his name (shame on me)!. All's well that ends well, Tom was there tonight when I handed over my page, and was delighted to recognise himself AND his name, and proudly read out each of the letter several times, and thanked me every so cute-ly!
I didn't come away empty-handed either, as I received in turn, a fabby page made by Maria (I don't believe she has a blog, which is also a shame), featuring my camera-shy daughter, caught candidly on camera at the beach a year or so ago, a photo I particularly like: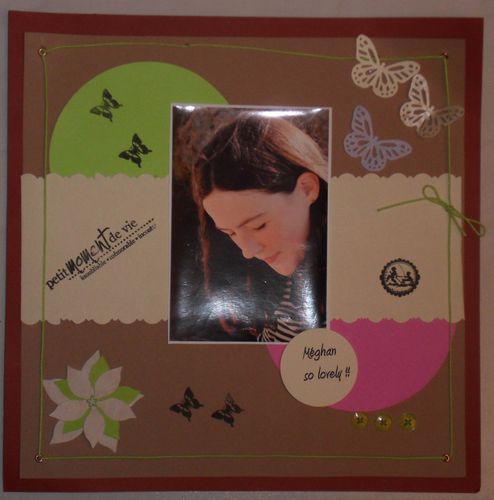 Sincerely, Maria, you did a fantastic job! I love the atmosphere of the page, the colours, the layout, everything, THANK YOU SO MUCH *hugs*, and lots of positive thoughts winging their way to you, you've a lot on your plate at the moment *kiss*.