there's nothing half so much worth doing as simply messing about in boats
RAT may even have been right when he came out with that classic line. At any rate, messing about in boats when the sun is up and the temperatures are on the rise, is just the right way to spend a lazy summer Sunday morning.
Last August all five of us rented out canoes, got dropped off several miles up river, and spent the next few hours paddling back to the base. We picniced at one of the locks, carted the canoes 'overland' where there was no 'fast-pass' slipway to slide down, and generally just hung out messing about on the water. I suspect it's going to become a regular weekend event if this year's summer weather is suitable, as everyone had a great time.
All of which is just a roundabout way of getting around to showing you tonight's little page: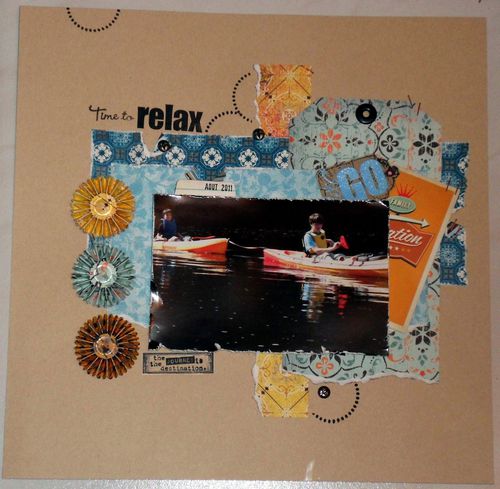 I used So. Creative's sketch (Challenge Scrap etc, 13 January).
Papers from the "Authentique Papers" Blissful collection, stamps by Tim Holtz, Kesi'art, La Compagnie des Elfes, and I added a few bits'n'pieces from my stash.