My youngster is growing into his role as a teen at an amazing rate, and the attitude in this photograph to me represents it all. Taken just after he had spent over half an hour arranging his hair, with lashings of gel and plenty of enthusiasm, only to ask seconds later if he could have some sweets, it's one of those typical nearly-an-adult-yet-still-a-child moments. Luckily for me he was in a 'receptive' mood and let me take the photograph without going all camera shy on me.
I scraplifted the layout from Ninie's challenge on Scrap etc for 01 April, thanks Ninie!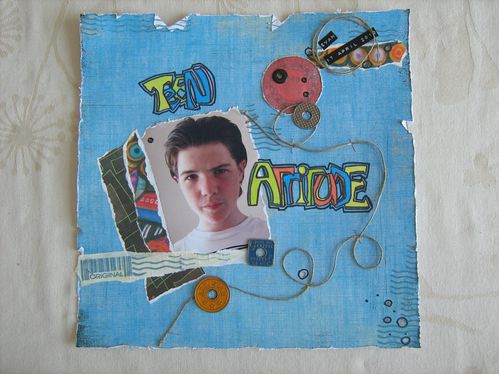 Basic Grey (Phoebe) for the background and one of the patterned papers, the other is from Rayher, stamps from La Compagnie des Elfes, some gromlets, eyelets and a little cord, and my daughter sketched and coloured the title for me.