With all the wet, cold and miserable weather we've been having, it doesn't feel as if the longest day of the year is just around the corner, nor that the lovely hazy, lazy days of summer are going to make themselves felt much this year. So looking back through my old photos, this one of my two boys enjoying an ice cream after a glorious day in the mountains, just yelled out for me to play with it.
Page made entirely of washi-tape, as in the Studio Calico workshop class by Amy tangerine. Here's my take on her 'reverse appliqué' technique: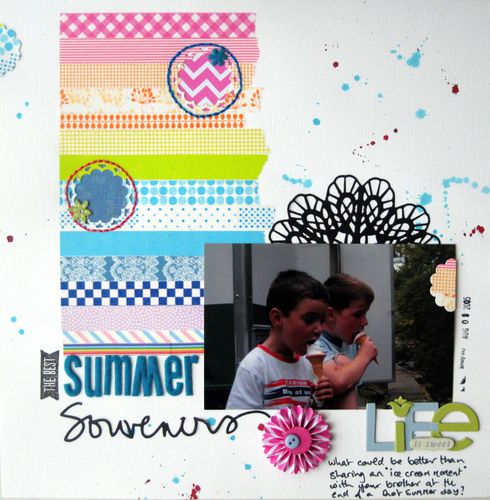 A rainbow of colourful washi tape and a few splashes of glimmer mist here and there, are almost all I needed to make this page. I punched the circle wiht a MS all 'over the page' punch, then backed it with patterned paper, and stitched around the edges.
The doily and the 'souvenirs' cutout were gifts from Milie, (aren't I so luck she spoils me so?), and the chipboard is an old K&Co one lying in my stash for quite a long time now.