Scraplift C&S: Photo Shoot (with a reluctant model)
"If you can't beat 'em, join 'em"
Impossible to get a natural photo of either of my older kids these days, in which case I decided to go for the forced, artificial photo shoot and be done with things. The resulting photos were perfect for this C&S scraplift proposed on the forum C&S tout simplement, which I have only just discovered, and which is an absolute treasure-trove of fantastic C&S designs, scraplifts and sketches. I can't wait to delve a bit more into the forum and start doing some of their challenges!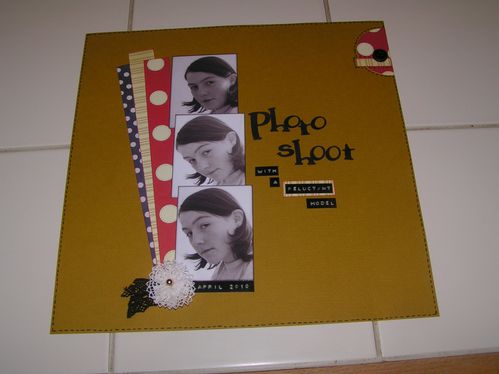 Mustard-coloured bazzill background and black bazzill for the lettering (cut with Ida Lou's alphabet frol Sizzix), Cosmo Cricket and Basic Grey patterned papers, and a lace flower from my recent game on Scrap etc.