Savoir loucher, c'est tout un art ...
... et mon dernier maitrise comme un chef!!!
With a smurfilly giddy youngster, having just watched the little blue guys in New York in 3D, I thought a quick detour by McDonald's before heading home might help matters along. Junior was delighted, of course, and smurfed himself silly going cross-eyed and making a whole plethora of funny faces and smurfy comments, in between slurping down his milkshake and wolfing down a portion of chips.
When Kaly challenged us to scraplift Severine's lively page, (Scrap etc, 6 October) I couldn't resist having a go: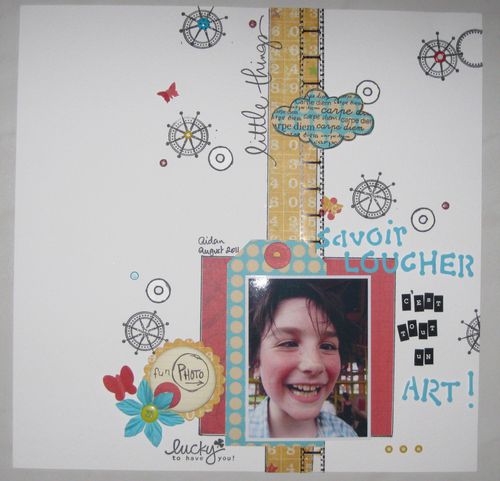 Of course, I had to go for a smurfy blue as the accent colour, and the lively red and yellow seemed right to capture the madness of the moment.
Badge from ScrapButtons, with a mini rub on alphabet to complete it, Stamps from Artemio, Technique Tuesday and La Compagnie des Elfes. Various brads, eyelets and punched shapes, a strip of TH Film ribbon and a funky foam and stickers title complete this LO.