I spotted a technique in the October/November issue of Esprit Scrapbooking, whereby the background page was made up of a mosaic of embossed papers. I thought it looked pretty cool and was eager to give it a try so I dug out my little selection of Tim Holtz Distressed series of embossing folders and some Bazzill kraft and got winding on my Big Shot. I then inked the result in Marigold and frayed burlap , and spritzed some glimmer mist here and there (chocolat cream, isn't it yummy?)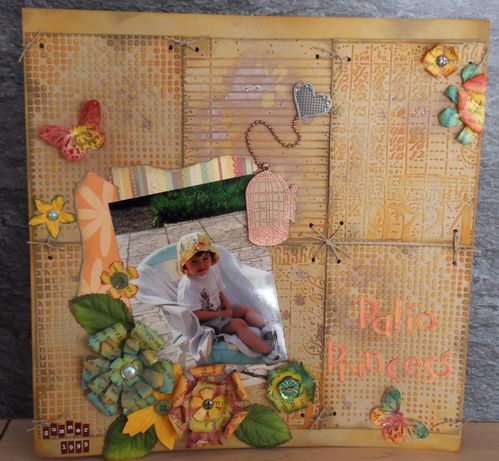 The photo I used is of my daughter at about three years of age. She never wanted to sleep at night, but spent her days makinjg up cosy beds out of her baby blankets, and playing at snoozing. On this particular occasion she made a cosy nest for herself in her little patio chair, brought out a heap of cuddly toys with her, and snuggled up contentedly for all of ... oh maybe ...2 minutes

The flowers are also made by mine own little fingers, which got covered in a variety of inks (surprise, surprise), some torn book paper and a light covering of stickles. I used my Tim Holtz 'Alterations' dies to cut the flower shapes (Tattered Florals), then inked them up in a variety of coloured Ranger's distress inks (mustard seed, shabby shutters, broken china, pine needles, aged mahogany, frayed burlap ...).
My trusty Martha Stewart monarch butterfly punch got an airing too ... and I used a Quickcutz alphabet for the title (Paper Doll).
How about a couple of close-ups to better see the details?