Oh happy day - Patchwork layout
Here's a layout which is a hybrid of several of my pet loves: The layout is inspired from the
Scrap etc.
banner, for their Septembre/October competition, it also incorporates lots of paper piecing, which I love, and is finished with my sewing machine (yet another of my interests). I absolutely love the patchwork effect, and the cheery colourful layout. I pinched the idea from the current Les Bonnes Idées (Marianne) magazine, where it was suggested as an album cover. I just adapted it to make it work for a page layout.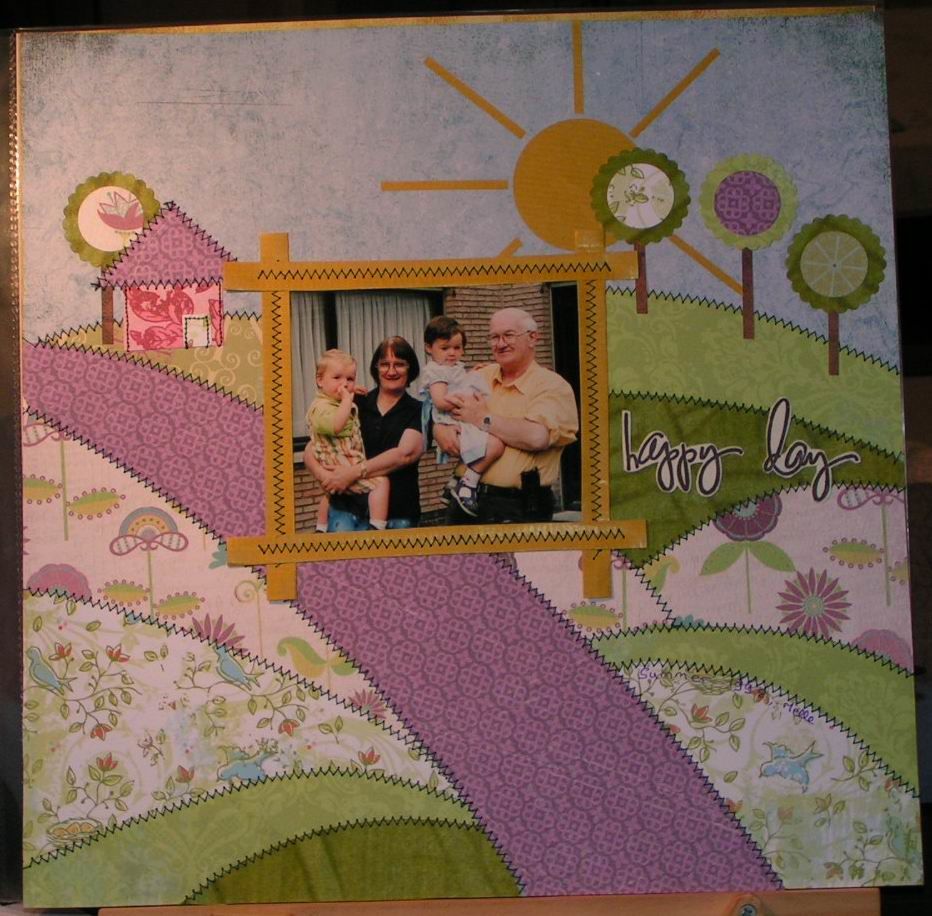 Here's the banner, from which I went with the idea of trees and a house, on a naive, colourful background with lots of greenery, and a cloudy-effect background for the sky:





I used a mixture of papers for the layout: Basic Grey, Rayher, My Mind's Eye, origami paper, and various others from my stash, a stamp (received in a swap) for the title, and lots and lots of sewing. The trees are cut with my scallopped circle and classic circle Nesties, and then I stitched and stitched with my machine. I was desperate not to make a mistake with the sewing, as I didn't want to have to start over because of holes in the paper where there shouldn't be. Thankfully I got through it by going s-l-o-w-l-y, and even m-o-r-e- s-l-o-w-l-y, taking to bend but not crease or fold the paper when I was running the central pieces through the machine. I breathed a huge sigh of relief when I got the last line of sewing in. I'm just cross with myself for not having stitched the house in zig-zag like the rest of the work, as it looks a little odd in straight backstitch.