Some happy news today!
Johanna, Magali and the team at Zen Scrap & Cie invited me to join them behind the scenes
and I am just delighted to be working with them.
It's a lovely, relaxed and friendly forum, where everyone is welcome.
Que de bonnes nouvelles aujourd'hui.
Je suis fière de vous annoncer que Johanna, Magali et l'équipe créative
m'ont invité à les rejoindre sur le forum Zen Scrap & Cie!
C'est un forum fort sympathique ou le mot d'ordre est "Zen"!
Tout le monde est le bienvenu pour passer des moments ensemble à scrapper ou papoter.
Chaque mois on vous propose pages, cartes et sketchs, accompagner d'un papotage amicale et chaleureuse.
N'hésitez pas à passer nous faire coucou!
My first project will be posted later on this month, so feel free to check back on the 20th to see what's going on.
We'll be celebrating the first anniversary of the forum as well as posting the regular challenges, page layouts and cards, and there will even be some prizes after the birthday celebrations!!!
Vous pouvez découvrir mon premier défi le 20 Mai, et par la même occasion les diverses challenges habituelles ainsi que des animations pour fêter les 1an du forum, avec recompenses et rigolades.
Au plaisir de vous retrouver bientôt!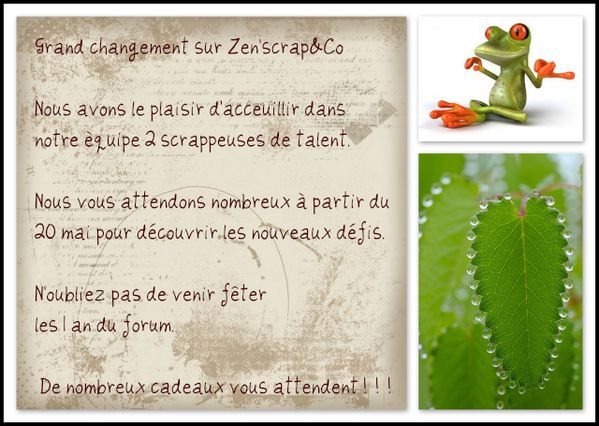 Looking forward to seeing you all there!