It's not always easy to get a decent photo of three munchkins where none of them are blinking their eyes, making a face or otherwise acting the monkey. Difficult, but not impossible.

One day in May 2005 I had the afternoon off work, the weather was glorious without being too hot, so I packed the kids into the car and headed off to a nearby village for a walk on the riverbank. The kids were in great form and were delighted to play on the sports equipment which dotted the pathway. A 30 minute walk lasted all afternoon, all in good spirits and cheerfulness. Aidan's sandal strap broke part-way through the afternoon, so we ended up buying him new shoes before we headed home. Nothing wonderfully exciting in the afternoon, just one of those simple, straighforward, happy, relaxed childhood days.

I wanted my page to reflect that simple afternoon, to portray a childlike, innocent air to the page I made. I opted for felt in bright, cheerful colours and I deliberately kept the layout simple: stylised trees reminiscent of fairy-tale illustrations, simple diasy-like flowers dotted here and there and a strip of 'grass' reminiscent of children's drawings.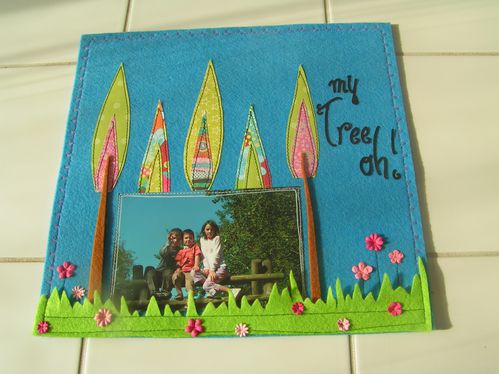 I was so lucky to find felt in just the right shade of blue to match the magnificent sky we had that day!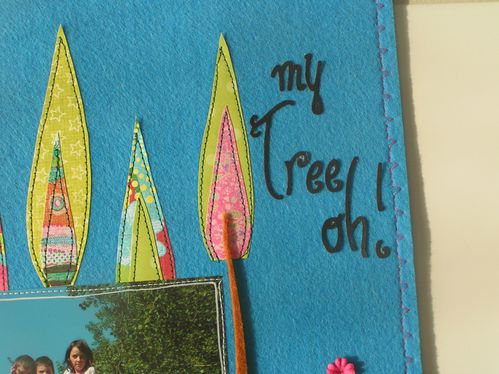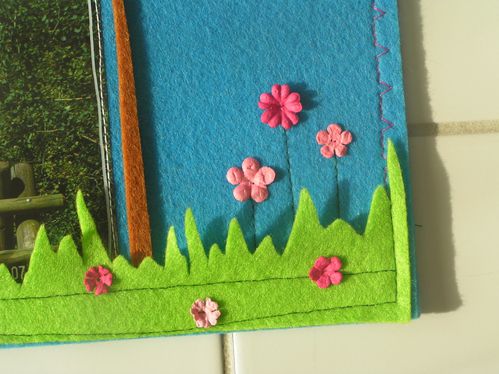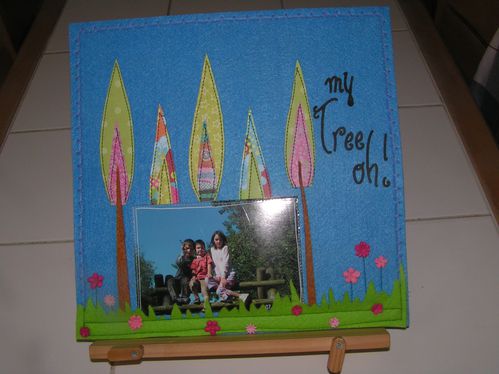 Prima bitty flowers, various coloured felts, scraps of paper from my leftovers box and the title cut with my sizzix 'Bloom' alphabet.