My son takes great photographs!
I have always appreciated the artistic streak witnessed in my children, right from their toddler scribbles and sketches to their more mature drawings and plans. Both show their talent in different ways. My eldest girl sketches and draws any chance she gets, her favourite subject being Manga cartoon characters.
My son has a great appreciation of depth and perspective and a fabulous eye for detail. His interest, however, is and has always been in photos and films. He has impressed me no end with the stop-motion "movies" he made at around 9/10 years old using his Playmobil characters as cast and toy cars or whatever was to hand as set material. As he matured he uses his natural sense of perspective to set up photo shoots from unusual angles and to really think about how to capture the shot he imagines in his head.
Last summer he once again impressed me with this deceptively simple photo in which, in my opinion, he has created an amazing atmosphere using very little other than the scene, the well chosen angle of the bicycle and the angle of his shot: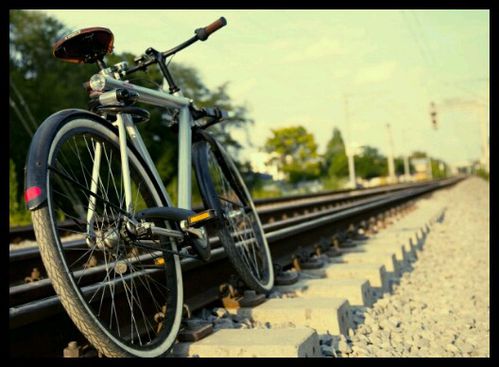 I knew straight away when So. Creative challenged us to scraplift one of Sasha Farina's amazing pages, that this photograph would be perfect for the job. And here's my humble interpretation: