Like a little princess for a day!
My gorgeous little niece made her First Communion in May, just a week before my own son made his. The difference in the formality of the day is even more noticeable when there are two such events in close succession. My son's affaire was very simple, casual, with a dress code accordingly, back home, the event is much more hyped up, and the girls' dresses in particular are very fancy affairs.
My niece had a gorgeous little dress, in a simple flared shift style, but covered all over with elegant little pearls and beaded voile, and along with her tiara headress, she really did look like the prettiest little princess, even if it was only for the day.
How better to show her off than by using Nany's page (Scrap etc, challenge 4 July) and scraplifting it to make this: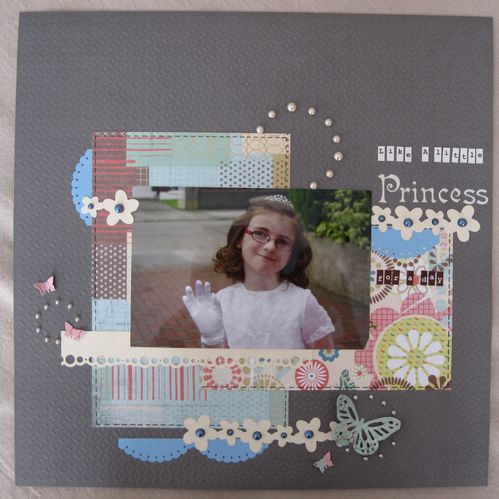 The background is a gorgeous bazzill embossed sheet in a dusty warm grey/chocolatey brown colour, associated with the gorgeous Basic Grey Hopscotch papers. All the fancy punched borders were a recent exchange which I received from hgval. Of course I had to use pearls on the page to match with my niece's gorgeous necklace and tiara, and I gave my MS butterfly punch an airing. For the title I used a rub on alphabet set by October Afternoon, and some Toga stickers.