Sur le Forum Scrap Amour, c'est nath qui proposait le challenge dejeudi (14 Octobre). Une page thème libre, mais avec des contraintes, s'il vous plait! Elle voulait du bois ou des feuilles, des couleurs chaudes, un animal, que ça brille et qu'on l'adresse la parole en bon Quebecois ... euh, français ... avec la possibilité de zapper un des conseils.
Your wish is my command, m'dear: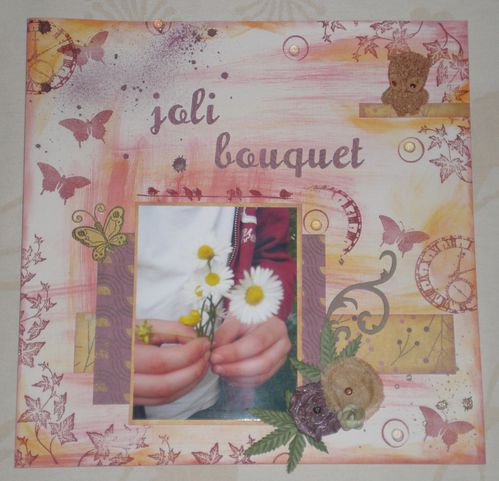 I used a beige-coloured sheet of bazzill for the background, which I inked here and there with Ranger's Distress Inks (Marigold and Fired Brick), applied with a moist baby wipe. The patterned papers are from the 'So Sophie' collection by My Mind's Eye, the linen flower and teeny rose were gifts in my Spring Flowers exchange, and the other flower I made following a You Tube Tutorial. I added a variety of stamps: Owl and large butterfly from La Compagnie des Elfes, Tim Holtz birds on wire and clock, Gaia butterflies, and Aladine ivy leaf. I finished with a spritz of 'Haunted Shadow'-coloured glimmer mist, and a few glass half beads from my stash for a little bling. The title is a quickcutz alphabet 'Cotton Candy', isn't it great?
Fun challenge, Nath, thanks!