Fun is just what we all had when we spent a day in the Parc 'Les Naudières' back on a fine sunny day in May, and all of us (small and big) let our hair down and had a whale of a time on the slides, bouncy structures, merry-go-ruonds and all the rest.
The huge slide and the trampolines were the most popular with my gang, and you can see from the picture that my youngest had an absolute whale of a time flying down it again and again and again and ...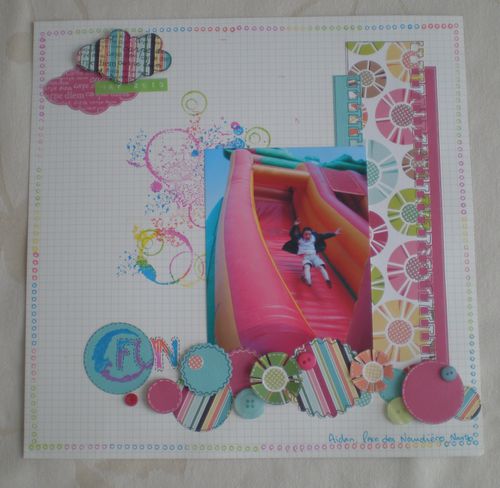 Once again I scraplifted Ninie's page, put forward for the Challenge of04 October (Scrap etc), your page was just gorgeous, hun!!!
I used a great collection of papers from American Crafts (City Park), they are just so colourful and fun and the colours suited my picture perfectly, and a variety of stamps (La Cie des Elfes, Scraposphere, Kars), and a selection of colourful inks (Adirondack brights, versafine, colorbox), along with a couple of buttons from my stash to give a little volume to the LO.
All in all a bright, cheery page, just right to raise our spirits heading into autumn.