... a tabletop dustbin for scraps!!! Every second person at the crop in Puget seemed to have one, and they are just sooooo useful, so this morning on my way home from the dermatologist I popped into the local thrify fabric store and picked up an offcut of lovely black fabric. A quick trip to the local Foire Fouille (dollar store) saw me right with a little piece of contrasting oilcloth, and my stash took care of the buttons, ribbon and decorative elements.
It didn't take long to knock up this little desktop, suspended bin for my scrapper's scraps (yes even us scrappers have scraps that are just too small to keep):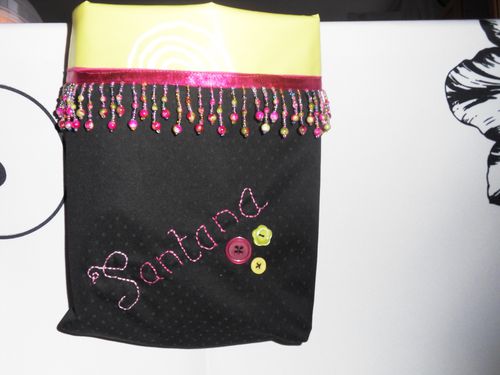 I even got over my horror of handsewing anything to roughly embroider (and I use the term veeeerrry loosely) my pseudo onto it, how neat is that?
No excuses now not to be a little more productive, eh?