A fun session of auto-portrait photo-shooting with my youngest yielded a heap of photos good to discard, and a couple of fun ones which I thought it'd be cool to group on one layout.
I've made a mini album with the same photos, but as it's not completely finished I can't show it to you yet. Watch this space, as they say!
I scraplifted Ninie's page (Challenge 11 October, Scrap etc):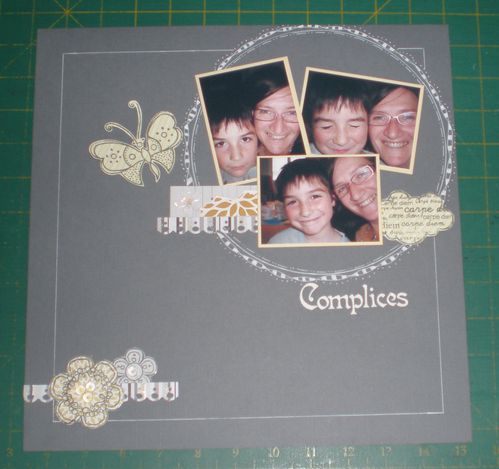 It's yet another terrible photo, sorry! I really need to start scrapping in the daylight hours! Anyhow the background is a lovely anthracite-y-grey colour, and the patterned paper is a mix of pastel yellows, greys and glitter. I'll try getting a better photo sometime during the day.
I used papers from My Mind's Eye (AndreaVictoria collection), stamps from La Compagnie des Elfs and Nick Bantock grey ink. The title is a Rub-on alphabet from October Afternoon, and the borders are both freehand in white ink.