Challenge 01 May, Scrap etc: Happiness is ...
Charlotte suggested a scraplift of Ninie's page for the challenge.
My page is pretty much a carbon copy of Ninie's, I just used different papers.
The photo is of my eldest two (or more precisely my daughter) feeding Noisette. It was the highlight of their holiday way back when ... when M's passion for all things equine was in its first flush of youth and enthusiasm. She was in seventh heaven to have a real live horse lodged in the field across the road from where we were staying, and all day long she hopped over to feed Noisette grass and other tidbits she found lying around.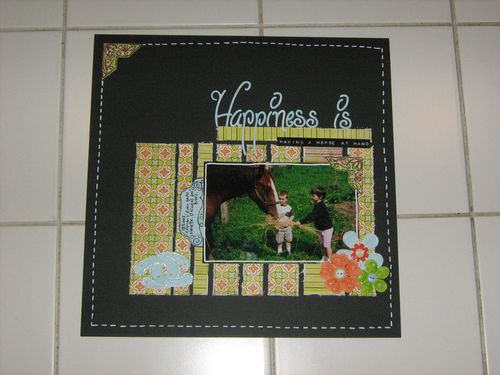 Black bazzill background, patterned papers from Pinkpaislee and Making Memories, Prima eline flowers and buttons from my stash, stamps from La Compagnie, title cut with Sizzix 'Bloom' alphabet, Cuttlebug die cuts and some buttons from my stash to complete the layout.