E. is just back from a week skiing in Switzerland. He had a fantastic trip and is alreay planning his next trip. I guess that's a good thing.

While he sleeps off a week of tiring days and even more tiring nights I decided to surprise him with a scrap page of his bad-hair day for when he wakes. His hair is a whole other story - one of those teenage identity things, I imagine, but he seems to think he'd look great with shoulder-length locks ... As it's harming nobody I'm just letting him get along with it until the novelty wears off



I used a sketch from Les Temporelles, proposed by Kaly for the challenge of 09 February over at Scrap etc: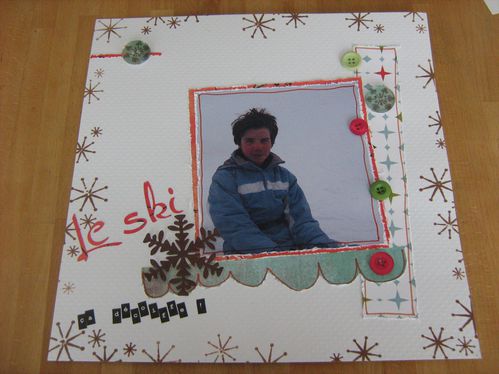 White Bazzil dots paper for the background. Snowflake stamps from La Compagnie des Elfes, large snowflake cut and embossed with the Cuttlebug, and some buttons from my stash. Hope he likes it!!!