Dadou had a great idea for the March Swap at Scrap etc: an exchange of some lengths of masking tape, that tape we are all so fond of and can's justify buying rolls of every motif that's available! This way we all get to have a sample of lots of different colours and patterns, without loading our storage shelves even more! Win-win situation, and it suits me!
Here's what I received:
From Dadousophie:
From Charlotte:
and from So. Creative: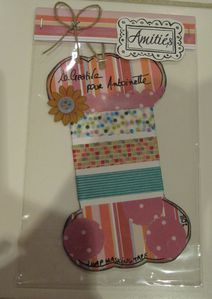 And here are the little packages I made in exchange:
The packages are based on one of Charlotte's cardlifts, thanks honey!