Conkers Bonkers - Concours des Elfes (Octobre)
Voici une 'tite page qui m'a bien amusé de faire. C'était pour le
concours du mois d'Octobre
chez les Elfes.

Les contraints:

1- Suivre le sketch
2- Les bandes doivent être faites aux tampons et encres distress/Nick-Bantock sur une base de papier blanc.
3- Thème "automne"
4- Couleurs d'automne

This page was fun to do. It's for October's competition with La Compagnie du Tampon. The challenge was to follow the sketch, use bands of plain paper inked with Distress or Nick Bantock inks, follow an autumnal theme and use autumnal colours.

Le sketch: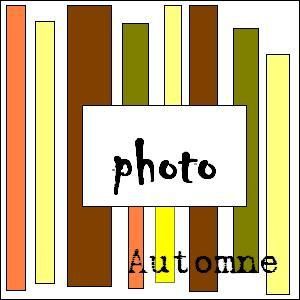 Ma page: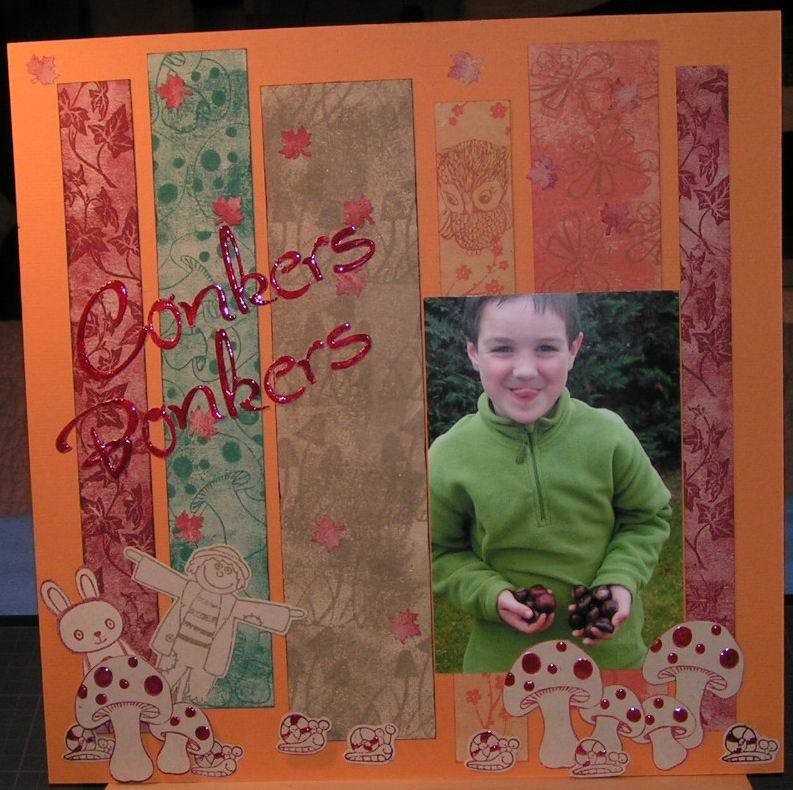 Conkers= Chataignes/Marrons
Bonkers=Fou/Dingue

J'ai utilisé une photo de mon dernier, prise en 2007 quand il s'éclaté à collectionné des chataignes et des marrons. Le papier de fond est une feuille de couleur uni, et les bandes sont fait d'une feuille du bazzill 'cartonné', que j'ai encré avec des encres Distress Pine Needles, Fired brick, Aged Mahogany, et avec du StazOn pumpkin. J'ai tamponné chaque bande avec un motif different, puis j'ai encré les bords.

Quelques images tamponné sur du bazzill cartonné pour la déco (Les 2 champignons des Elfes, le p'tit monstre de Kaly (La CDE), l'hibou et oiseau de la CDE, Escargot+épouvantail de Alladine, et une brache et liseret de la marque Artemio.

J'ai passé les points des champignons et des coquilles des escargots avec de Glossy Accents, comme pour le titre (découpé de mon bazzill encré avec l'alphabet Sunset de Sizzix) et j'ai rajouté quelques punchs en forme de feuilles, également passé à la Distress pour leur donner une couleur automnale, pour completer la page.


I used a photograph of my youngest, taken in 2007 when he was having a ball of a time collecting and playing with the chestnuts on the square in front of the house. I used a plain orange coloured background paper and cut my bands from some Bazzill Carton. I then inked the bands with Distress inks: Pine needles, fired brick, aged mahogany, and with Pumpkin StazOn. I stamped each band with a different image and inked the edges to finish them off.

I highlighted the spots on the mushrooms and on the snail shells with some Glossy Accents, which I also used to 'pop' the title (which I cut from some of my inked bazzill using the Sizzix Sunset alphabet). A couple of punched leaves inked to keep with the autumnal theme complete the layout.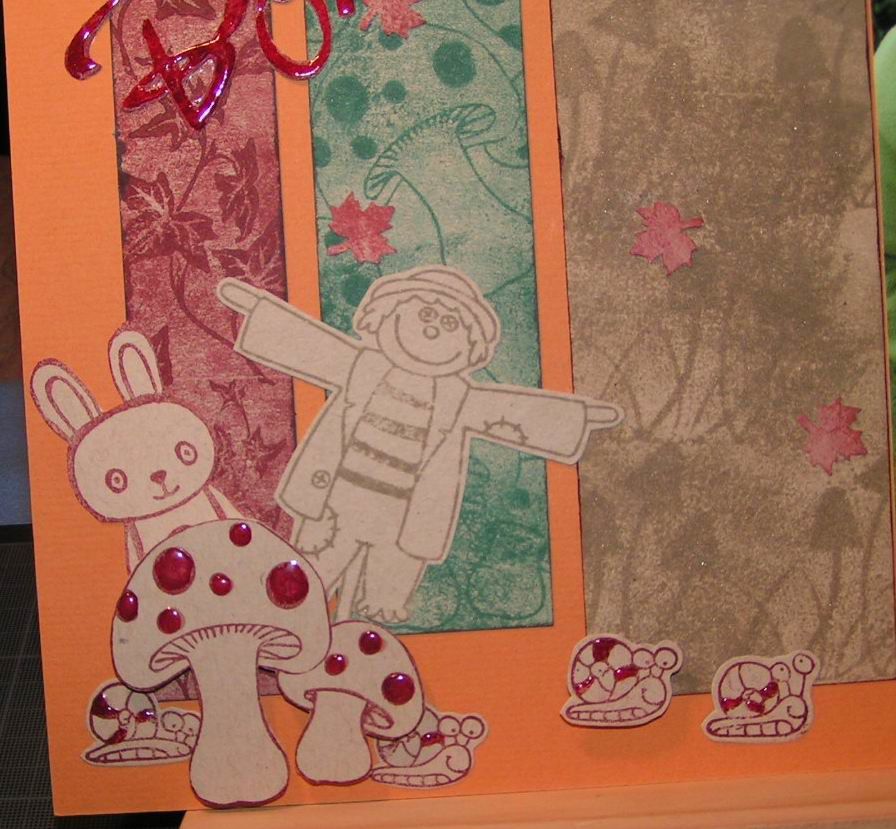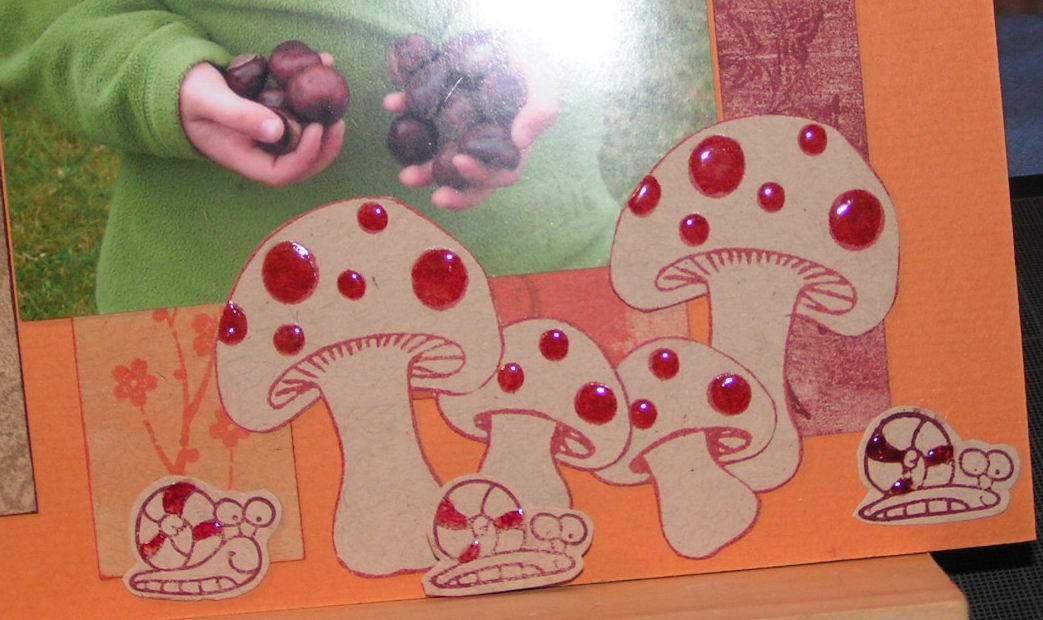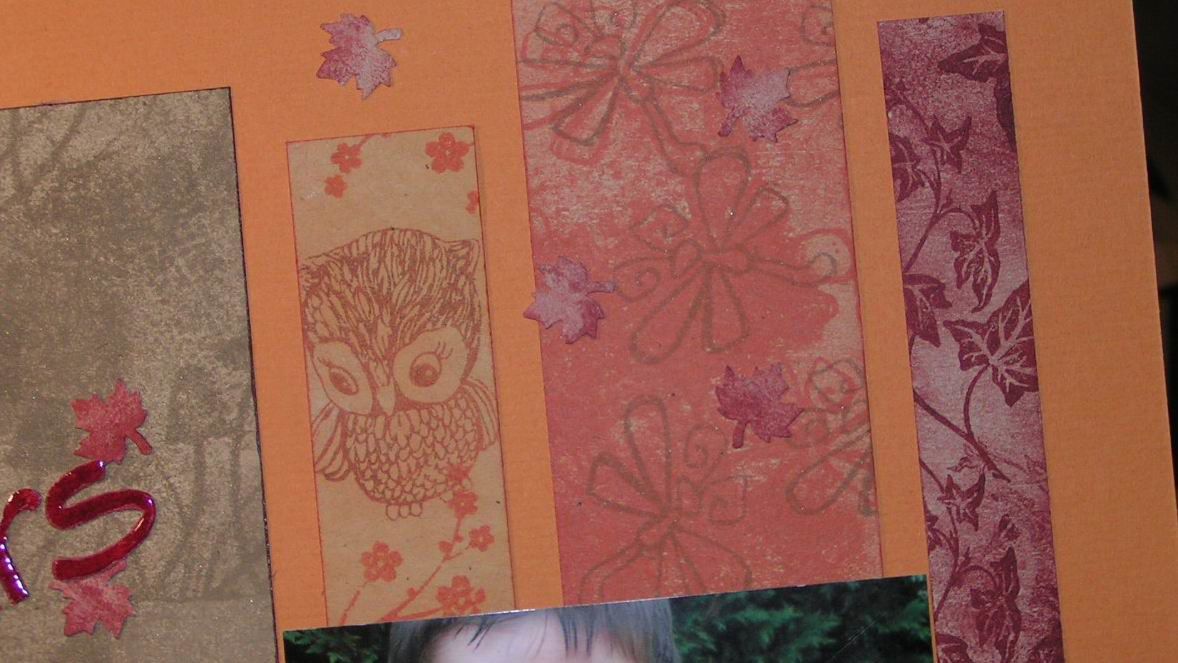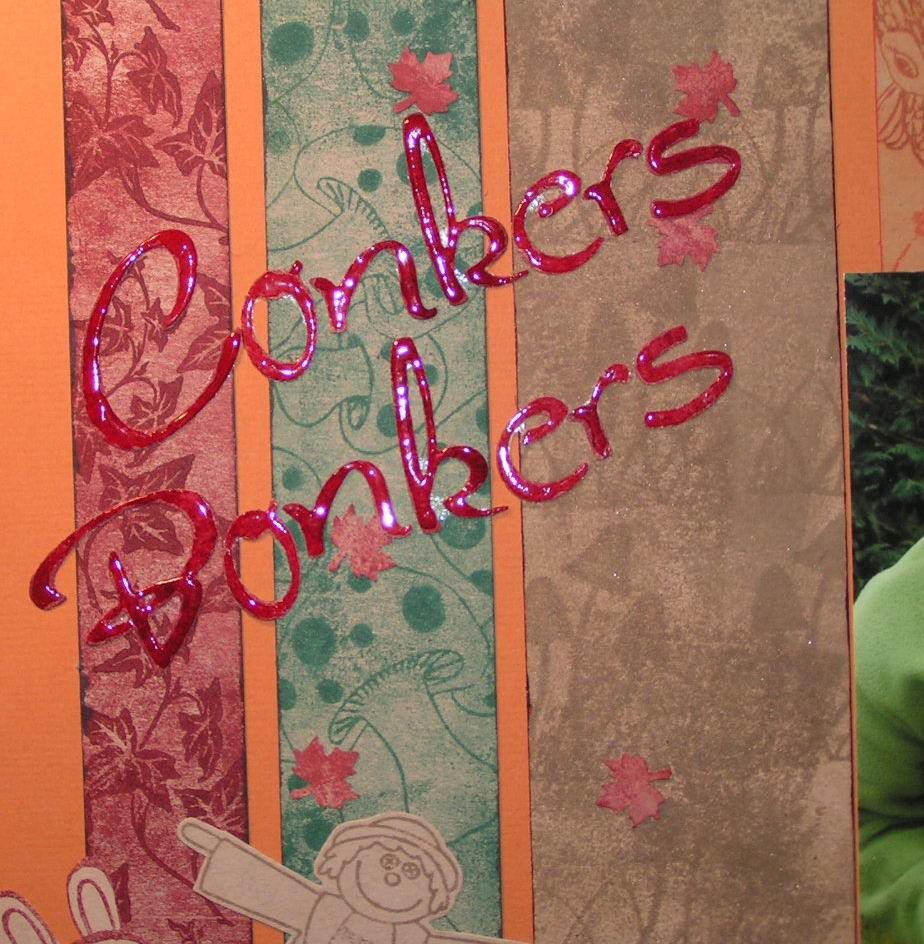 Stamps from Artemio, Alladine and La Compagnie des Elfes.