Mamaïw put up a wonderfully colourful sketch for one of the monthly challenges on Scrap etc. this month: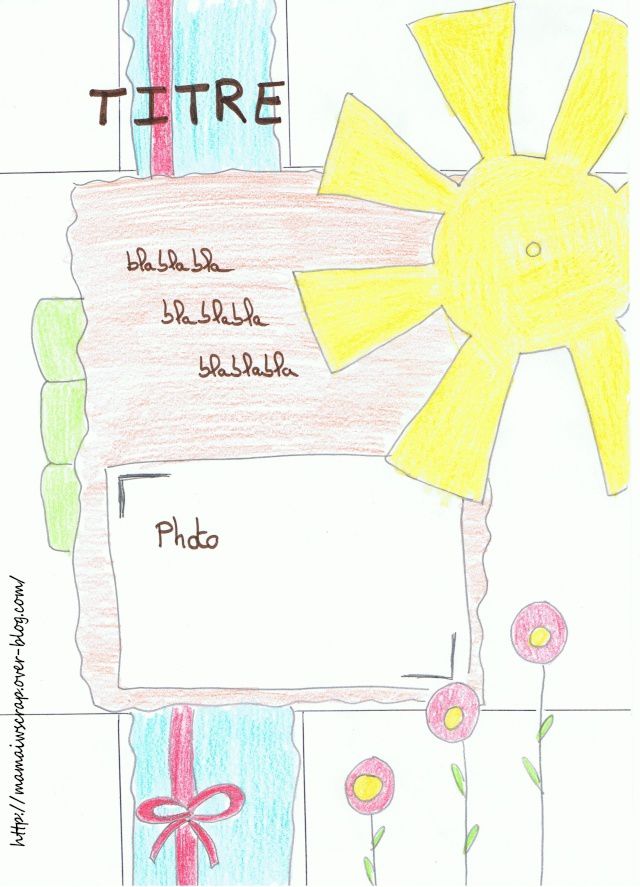 It was intended that the sketch be used to make an A4 sized layout, but I only have 30 x 30 albums. To stick with the spirit of the sketch I created the main part of my layout on an A4 sheet which I trimmed to resemble an oversized luggage tag.

The photo is of my eldest when she was about 18 months old. Full of fun and mischief, she always had a cheery smile and sunshine radaited from her at all hours. All she wanted was for us to play with her, smile and tickle her, and basically let her hang out around us. No need for fancy toys or games, just our attention and interaction were enough to bring out her cheeky grin and have her jumping, climbing and tumbling, particularly if we let her do it on our big bed!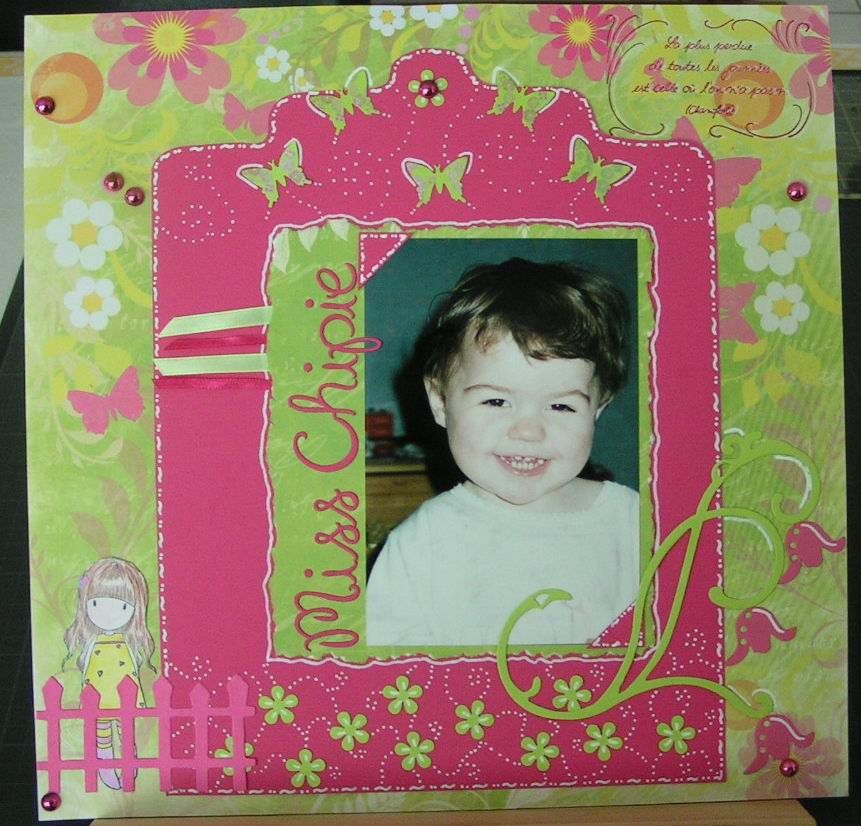 I think the bright cheery colours of my Rayher background, the flashy pink 'tag' and the lime-green accents are in keeping with the sunny sketch.

As you can see I diverged quite a bit from the original sketch, but hope I've kept close to it in spirit.

I replaced the flower stems with a fancy die cut flourish, but maintained the three heights: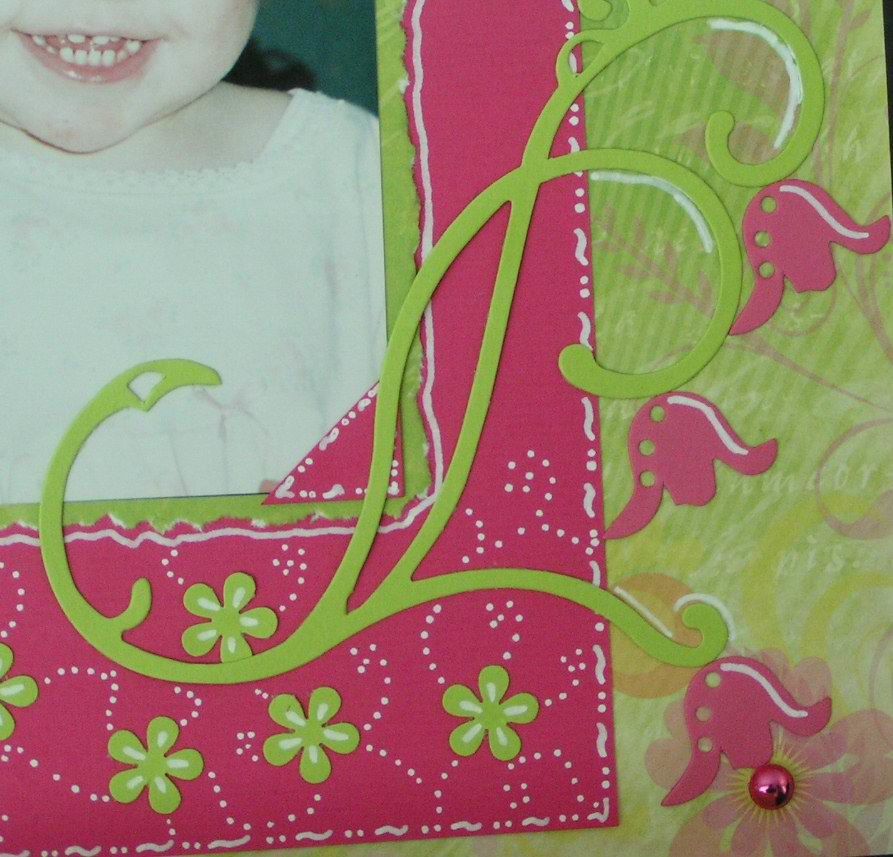 The title moved from the original suggested placement: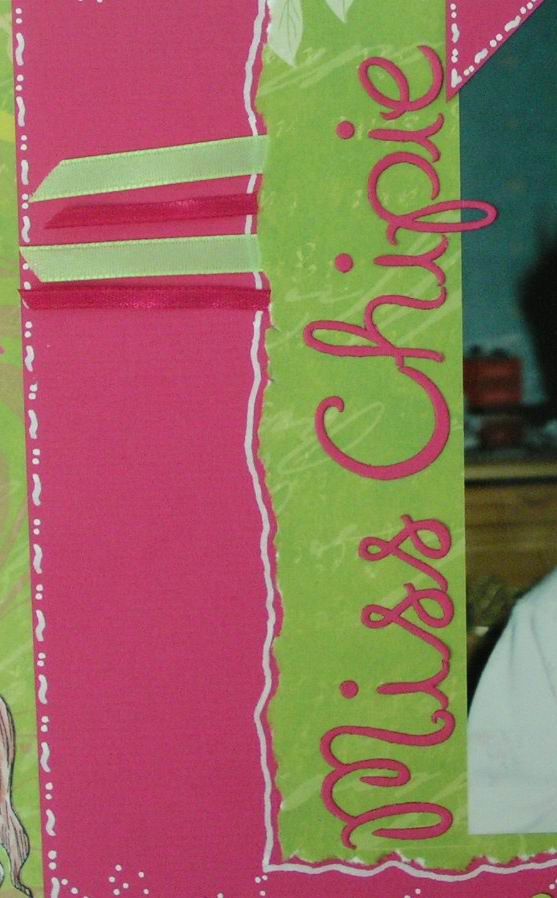 The ribbon down the left disappeared entirely as the page is busy enough already. The sunshine on the top right hand corner got replaced with a rubber stamp (a lucky and very cheap find in the local gardening centre!). The three ribbons on the upper left hand side became four, and I created the effect of a band of paper top and bottom of my central panel by sticking on floral and butterfly die-cut pieces, and decorated the area with my white pen.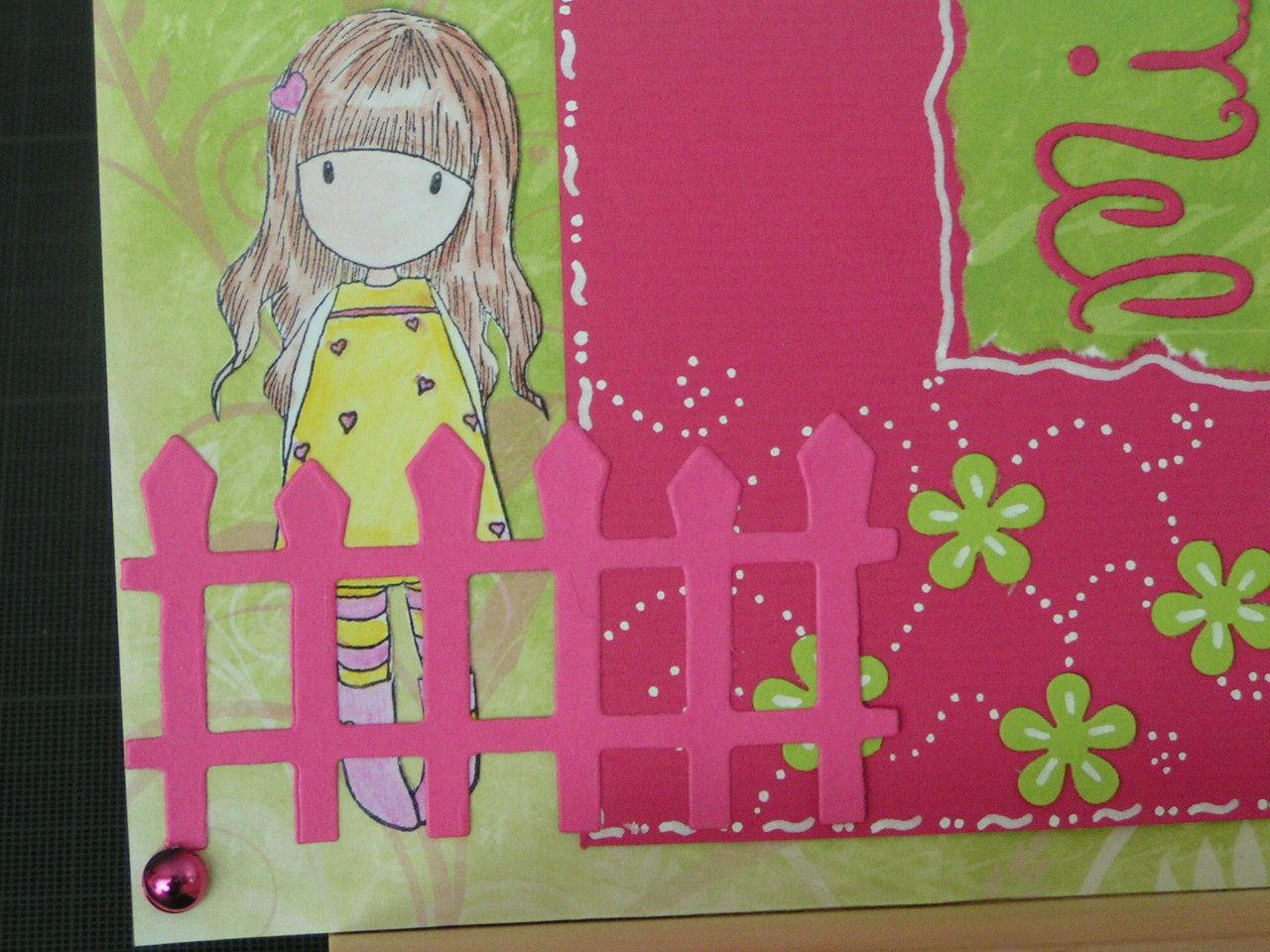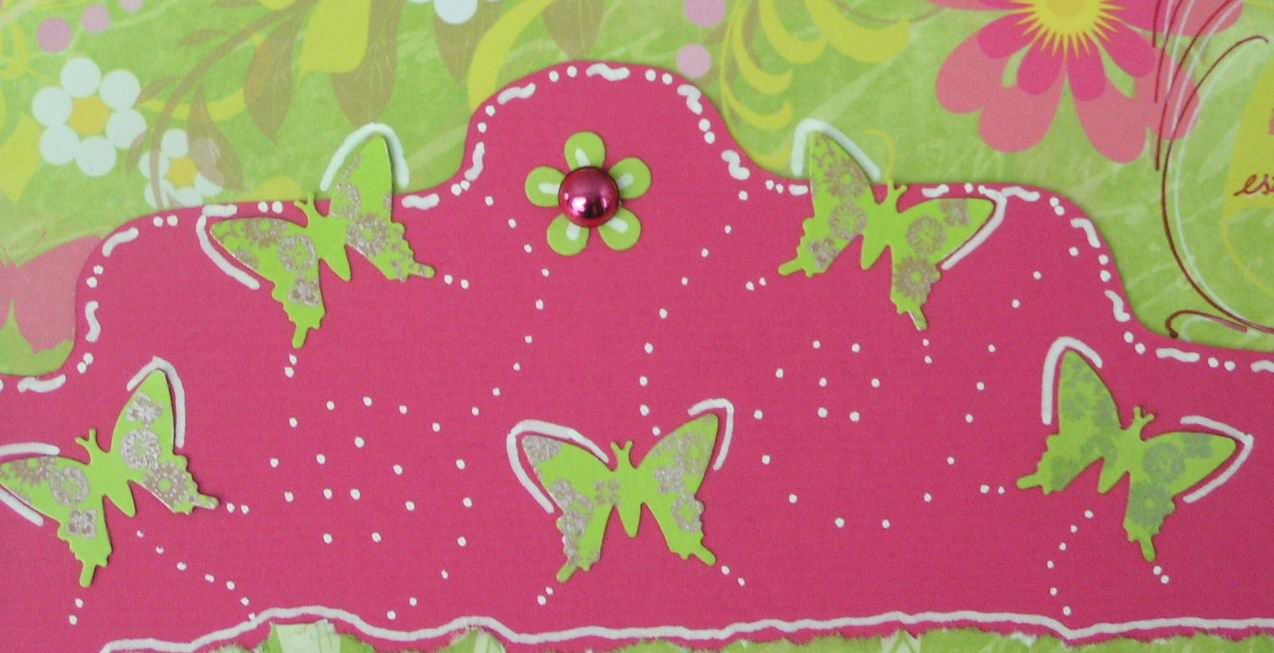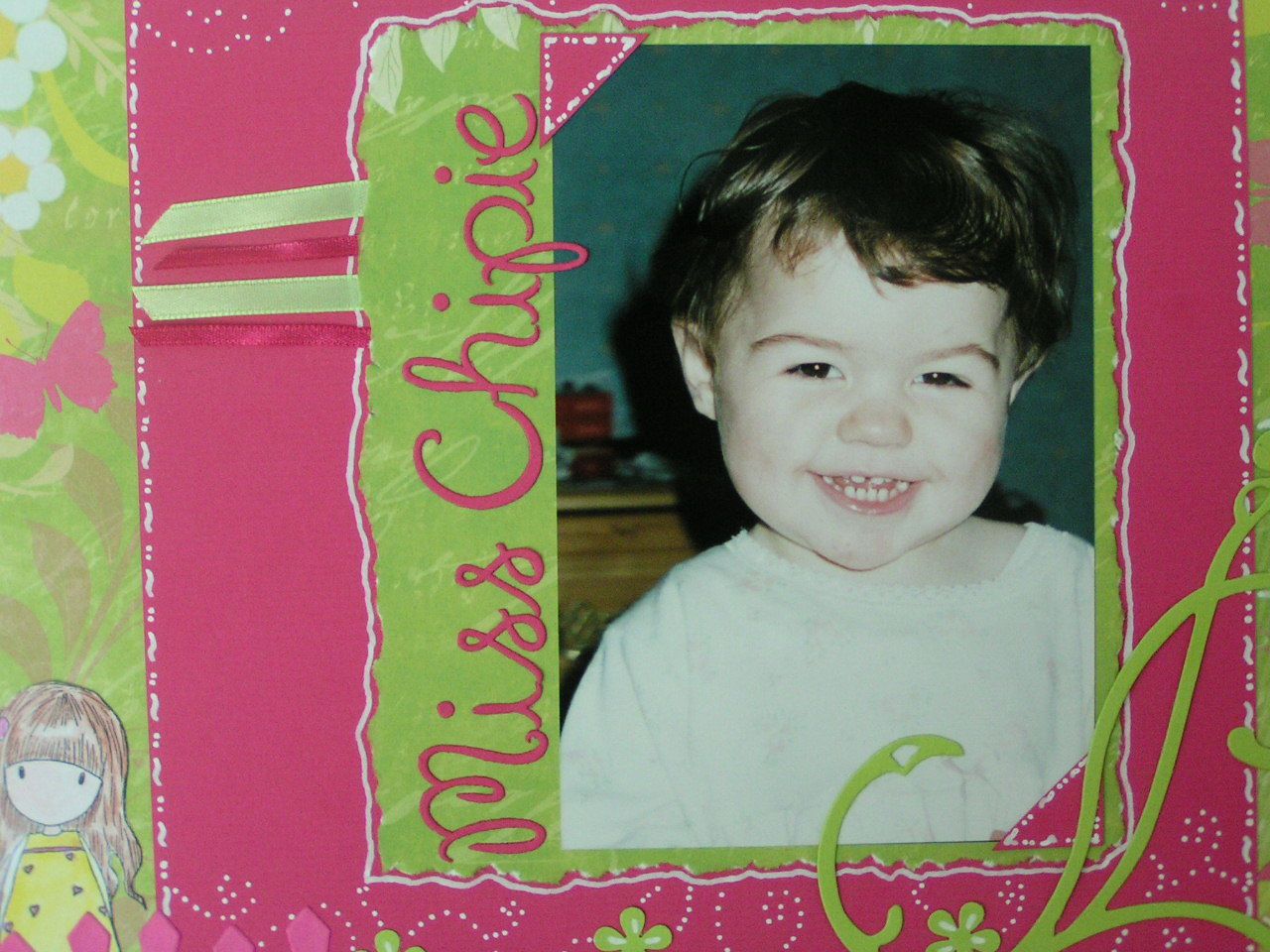 Even though my layout doesn't much resemble the sketch, I still like it's cheery feeling and the bright, colourful outcome. Thanks, Mamaïw!

Not much material went into this layout - a Rayher sheet for the background (I cut out what lies beneath the pink and re-used a bit of it to mat the photo), title is CB Fancy Pants alphabet, flowers, flourish, picket fence and butterflies are an ebay purchase, and a Sugar Nellie 'Gorjuss Girl' stamp for the bottom corner. A couple of dew drop beads in red, some borders sketched in with my white Posca marker, a sweet poetry stamp for the upper corner, and some ribbon from my stash.