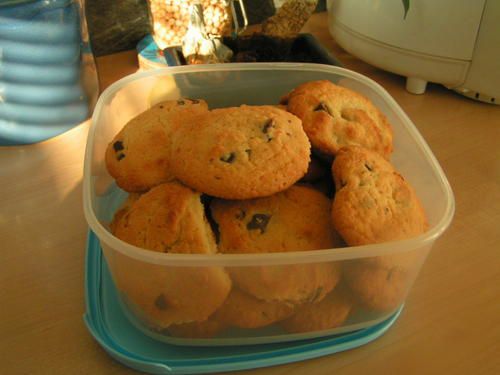 My kids love 'em! A colleague gave me a recipe for chocolate chip cookies. The boys (under supervision) set to work, and at the end of the procedure everybody indulged in crunchy, tasty cookies :)

Recipe (for ~40 cookies)

Thermostat 4/5 200C

300g Self raising flour
200g butter
250g sugar
2 eggs
100g chocolate chips
125g powdered/crushed hazelnut
1 sachet of vanilla sugar (11g)
1/2 sachet of baking powder (7g)
Pinch of salt

-Soften the butter
-Cream butter, sugar, vanilla sugar and a pinch of salt
-Add in the two eggs and beat thoroughly
-In a separate bowl mix the flour, hazlenut and baking powder
-Slowly add the flour mixture to the butter/sugar/egg mixture, beating well to form a soft dough
-Stir through the chocolate chips

Scoop small spoonfuls of the mixture onto a baking tray and cook for 10 minutes for each trayload.