Yet another Scrapbook page
It's been an 'odd' kind of day today. It started early (around 4am) with the arrival of junior at my bedside: "Can I climb in to warm myself up beside you?" "huh?! *mumble*mumble*" then two icy cold feet plant themselves onto me to be sure I'm properly awake.

Then I had to work almost three hours overtime at work on a day when I usually finish at lunchtime. That was a bit of a bummer :-/

So when I gets home I'm kind of cheesed off and can't settle to anything. No1 daughter is similarly at a loose end, and DH is busy DIYing in the attic. I bundle No1 daughter into the car and head off to the local gardening centre for a stroll. Ambling around she spots some bright yellow and dark blue Scrapbook paper and begs me to buy it for her so she (we)can do a scrapbook page of her at the pony club she attended as a wee youngster. (The club colours were dark blue and bright yellow). "Alright, alright". I can see it's going to be one of those days ...

Back home again she set to with a will, and well...all I can say is that between us we turned out a page that's respectable enough. It wasn't even a 'spendy' page as we only used two sheets of paper, a little glue, and a paperpunch I have lying around here for yonks.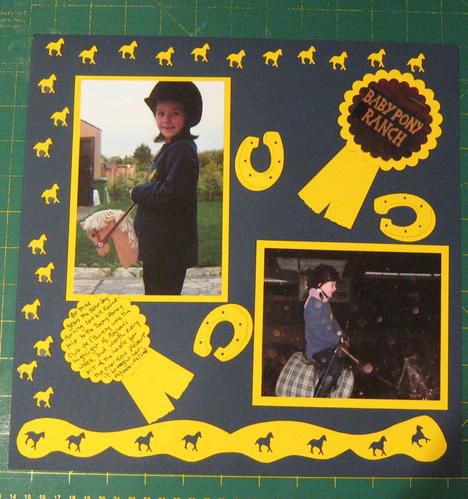 It's a bit garish, but that can't be helped as we used the club colours.

So what did I use?

Bazzil in dark blue for the background, yellow cardstock, cuttlebugged scallopped circles for the rosettes, cuttlebugged horseshoes, and an old horse punch for the border. Easy peasy! The 'title' is actually a photograph taken at the said pony club, the sign for the bar ;)