...Hooked on these cute little envelope cards, that is

They're sweet, quick to make, and look great.

I couldn't resist making just two more tonight. I promise I'll move onto something different now! (fingers crossed

) At the very least I'll take a break from this model until I get something else made.

This one I made from ordinary light pink bazzil for the base, some freebie mauve flower-printed paper I downloaded, (see? it is possible to find nice freebies sometimes!) some bitty flowers I received in a swap last year, a cute fairy stamp from Artemio, and Color Box Q ink in Royal Satin.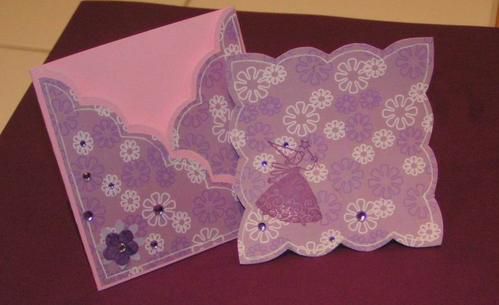 I traced the outlines freehand using a white gel pen, and added a few adhesive gems for a little shine. Unfortunately the photo doesn't show it but the inked image also shines a little. I really like her, but haven't had much opportunity to use her thus far.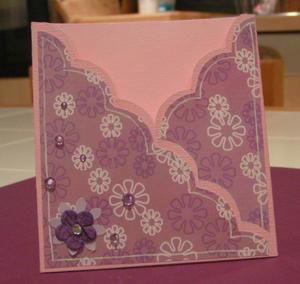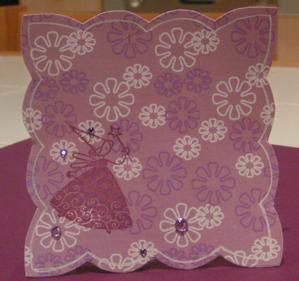 I shaped the scallops using my Fiskars shapecutter and template, to give it a more finished look.
I used tank green bazzil as the base for this second card, decorated with Basic Grey printed paper, some paper lace, and yet another fairy/elf stamp from La CDE - fairy underneath the Lily-of-the-Valley stamped in Olive Green StazOn. A shiny button on the front to finish it off, and another card bites the dust.