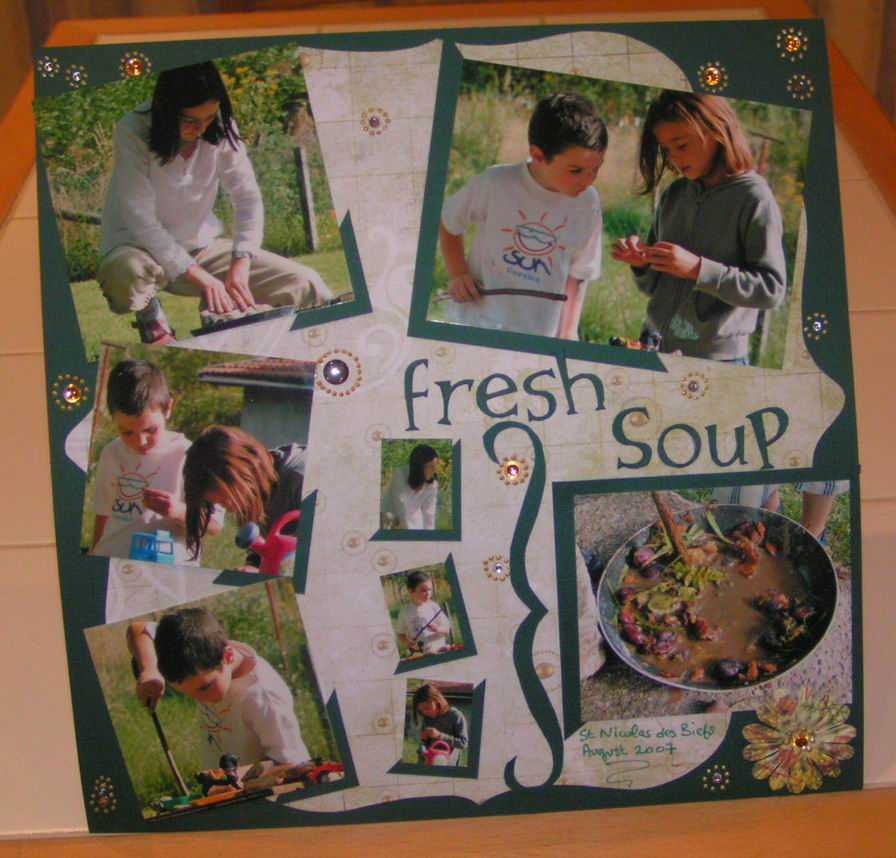 I have resolved to enter the monthly Scrapbooking challenge on CoC every month this year. It's probably the only way that I can be sure of making an effort to get through the tons of photographs I intend to Scrap!

This month the challenge involved creating a layout using EIGHT photographs, on one page. No mean feat I can tell you, particularly as I don't do digital scrapbooking.

These photos were taken in the mountains of the Massif Central a couple of years ago. My kids and their cousins spent hours each day making 'soup' out of whatever 'fresh vegetables' they found outside - pine cones, ferns, grass, and other savoury 'edibles'. It was great to see them working together so determinedly for so long, and was a very relaxing vacation.

I have used a very simple layout - olive green bazzil for the base, a patterned Rayher for the foreground, which I shaped using a Toga template, some raindrop pearls for a bit of bling, highlighted with my trusty Tulip textured paints, and a little fancy bracket also cut with my new Toga template. I like how it all works together, keeping it clean and simple was probably the right way to go given how busy the page already is when the eight piccies are set out! Besides it's a style I like anyway.

Flower from Prima and title cut using Cuttlebug's 'You're not the Boss'. I seriously need to get another couple of alphabets for my 'bug!