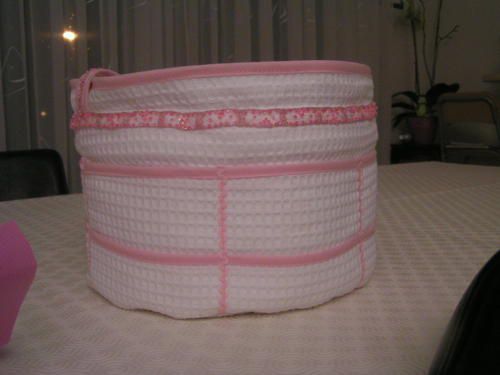 There's a wonderful tutorial for an embroidery basket to be found on clicking on this
link
.
The first one I made was an unmitigated disaster, but it did serve to show me the way. Being a perseverant old biddy I tried it again, and again, and again, improving each time.
I finally made eight of these totes, and gave all but one of them away. The one I kept is stuffed full of crafting bits'n'bobs that just don't store well on shelves or in shoeboxes

A friend of mine is expecting her fourth baby shortly. What a nightmare when it comes to offering a gift - she has all she needs already!!! Then I thought it would be pretty neat to offer her one filled with baby consumables (nappies, lotions, cotton pads, etc....). It can always be used to store cuddlies or other baby-related bits'n'bobs afterwards. Not knowing what colour scheme she is going to use for the nursery I decided white was the most neutral, and here's the result, which I just finished tonight.
I am pretty pleased with the outcome :)