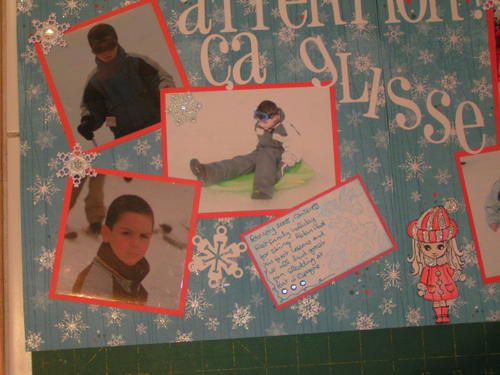 There's snow on the way (just not around where I live). Hearing the forecast, and finding myself free of my most demanding youngster for the day, I decided to finally Scrap those holiday photos which have been lingering since February 2008!!! We brought the kids to the Pyrenees for a skiing holiday last year. Unfortunately the weather then turned extremely mild after our first three days, so we only got to ski once or twice. We did manage to get some pictures, however....
The beautiful background paper was a great place to start - glittery, textured and embossed paper from SEI "GLITZMAS, Frosty the Snowflake" was just the thing I needed, and it even had a touch of red here and there to tie it in with the rest of my contrasting colours.
Alphabet from Quicutz (Blossom), as are the die cut snowflakes. Other snowflakes from a sticker pack, Rubber stamp "Canelle" and "Elfe sur sa champignon" from La Compagnie Des Elfes. StazOn and Dew Drops brilliants inks, some embossed glitter and stras for a bit of bling, and voila, another page in the album.
I may add in "Leo" or the sled and it's owls (also from La CDE), just as soon as I order them (when I next get payed ;)), but otherwise the page will remain as you see it here.