Through the eyes of a child
Here's a layout which I hope meets the criteria for the
PaperPlay
challenge for this week -
Challenge 09 Week 21 Give it a twist"
. My twist is to have used a girlie, floral paper background and pink as the contrasting colour for this BOY layout. Hope that meets the criteria?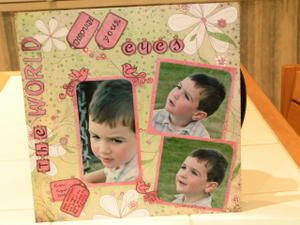 Through the eyes of a child even the simplest of things is a wondrous affair.

I've always had a soft spot for dark eyes, so feel pretty spoiled that all my youngsters are gifted with beautiful, liquid, romantic dark brown eyes. My youngest has also been blessed with the longest, darkest lashes you ever expect to see on a child's face, and they just make my heart melt.

I just had to scrap this little series of photos when I saw how expressive they looked.

Background is from Basic Grey, various alphabet stamps for the title and the labels. Bird stamps from La Compagnie des Elfes.

A simple page where the photos take precedence, as they deserve.
.